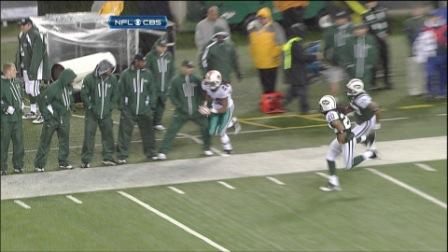 EAST RUTHERFORD, N.J. -- One of the dirtiest plays you'll see all year happened here at
Jets
-Dolphins.
Miami's
Nolan Carroll
was running on the Jets' sideline covering a kickoff when Jets strength and conditioning coach Sal Alosi stuck out his leg and tripped Carroll.
I saw it. I was stunned. That type of stuff happens in backyards and prison yards but not in the 21st century NFL.
The Jets confirmed it was Alosi and the
Dolphins
, understandably, were absolutely furious.
"It's a sad situation," said Miami linebacker
Karlos Dansby
. "There's no place for that in football."
Alosi issued a statement saying: "I made a statement that showed a total lapse in judgment. My conduct was inexcusable and unsportsmanlike and does not reflect what this organization stands for."
Alosi said he apologized to the Dolphins and Jets.